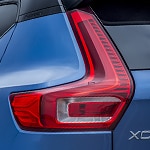 If you're in the market for a new SUV, the Volvo XC40 should be at the top of your list. This vehicle is packed with exterior features that are sure to impress.
The first thing you'll notice about the Volvo XC40 is its sleek and stylish design. The vehicle's body is made from high-strength steel, which gives it a strong and sturdy appearance. The XC40 also has a sporty look, thanks to its muscular body and aggressive front end.
When it comes to the XC40's exterior features, there's plenty to talk about. For starters, the vehicle comes with LED headlights and taillights. These lights not only provide excellent illumination, but they also give the XC40 a modern and stylish look.
The XC40 also comes with a panoramic sunroof, which is perfect for letting in natural light or taking in the scenery. If you're looking for even more fresh air, the vehicle's front and rear windows can be opened to let in the breeze.