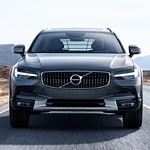 The Volvo V90 is a versatile class E executive car that can be used for a wide range of purposes. It comes with many features designed to make it easy to use this car for all sorts of different things.
An important feature of the V90 is its cargo area. The cargo area has room for up to 5 people in it, but when you want more space, there are multiple ways to expand on this area. One way is by using the roof rack, which can be used to carry extra cargo on top of the car. This makes it easy to transport large items that would not fit inside the car itself.
Another way is by using an extension panel, which attaches directly behind the rear seats and extends out toward the back of the vehicle. This allows you to add even more storage space for larger items, like luggage or furniture pieces that need extra protection from damage during travel time.