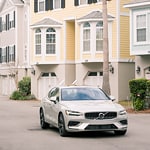 When it comes to designing futuristic performance-inspired vehicles, Volvo does it the best. The Volvo S60 here at Willis Volvo Cars is a good example of a sedan by Volvo that comes packed with high-end safety and performance features that makes it stand out from its peers.
The Volvo S60 sedan is equipped with a 260-hp turbocharged four-cylinder engine. Depending on your preference, this power can be routed to a front-wheel or an all-wheel drivetrain configuration. The Polestar Engineered trim of the Volvo S60 sedan delivers a massive 400-hp in its Recharge plug-in hybrid variant. This sedan is sportier with a striking appearance and high performance.
The 415-hp and 404 pound-foot of torque provided by this fuel-efficient hybrid engine makes it an outstanding sedan that can take you anywhere in Des Moines, IA with ease, while still remaining affordable. When it comes to engine options, the Volvo Hybrid is, without doubt, the most impressive hybrid model in the lineup. These attributes make the Volvo S60 the most popular.