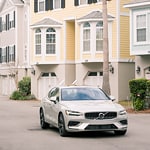 The Volvo S60 is a striking car all around. One of the highlights of the Swedish luxury sedan is a first-class interior that has new technology from Volvo, many advanced safety aids, and plush upholstery. The Volvo S60 combines luxury and practicality in its cabin, which is an overall clean interior with impressive space despite the fact that the Volvo is a smaller car.

Interior Design

The interior of the S60 has a spacious and thoughtful layout. The cabin of the Volvo features enough leg room and headroom in the back row to fit taller occupants with ease. The seats are large and covered with plush simulated leather or full leather upholstery.

Technology

A high-tech interior is a notable quality of the Volvo S60. The Volvo has an infotainment system with voice control technology for ease of use. Android Auto and Apple CarPlay are standard with the latest S60. Navigation is also included.

Safety

For safety, the Volvo gets standard lane keeping assistance. Emergency braking and parking sensors are also standard, and some features are available such as Pilot Assist.