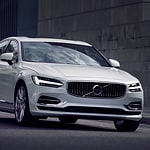 When it comes to Volvo vehicles, they are known for finding an excellent mix between sportiness and elegance. With a large choice of models and trim levels, you will never miss a Volvo that fits your driving needs and lifestyle. Whether you are looking for a sedan or an SUV, there will always be a Volvo for you.
Only a small number of car manufacturers are able to achieve the optimal balance of prestige and excellent performance that Volvo models offers. The Volvo S90 sedan is a true manifestation of this. This sedan boasts top-of-the-line amenities and high-tech features. You should buy this sedan if you want a vehicle that is elegant to look at yet outperforms its rivals in terms of performance.
The S90 comes in three unique trim levels. The S90 Recharge and the S90 base trim are known for their fuel economy and efficiency. They come packed with a 316-hp turbocharged, supercharged engine.