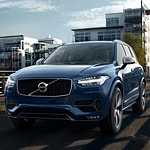 The Volvo XC90 is a luxurious crossover SUV that offers the ultimate in comfort and safety. One of the best features of this vehicle is its interior. With all-leather seats, premium audio system, and power sunroofs, it will be easy to get lost in your thoughts while driving this car. With its much-anticipated release, Volvo has recently offered an inside look at the latest features of this model.
Volvo's new all-wheel drive system will be integrated in to this 2021 vehicle. This will provide a 28 percent increase for power and torque to the XC90. It is anticipated that this system will also improve handling and give the car an improved sense of control. The feature will come with intelligent chassis technology that will improve the driving experience by proactively applying power to all four wheels.
The built-in Wi-Fi hotspot in the XC90 is one of its latest and most exciting features, as well as a first for Volvo's line of SUVs.