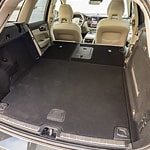 Volvo is well known for their ability to handcraft automobiles that satisfy a driver's every need, and the XC60 is certainly no different. Whether you are looking for a powerful luxury SUV, or just simply a highly functional one, you will discover that the hybrid Volvo XC60 is right for you.
Drivers in Des Moines who are fortunate enough to purchase an XC60 today are given access to sumptuous interiors that are enhanced by a powerful hybrid engine which combines all of the benefits of an electric vehicle with a traditional gas-powered SUV. This sophisticated compact SUV also comes with advanced features like a hands-free tailgate that will give you easy access to the 50.6 cubic feet of storage space that comes standard in this vehicle. The XC60 also comes with a refined sound system manufactured by Harman Kardon that generates music you can really feel.
So, if you are looking for a car that will get you from point A to point B as efficiently as possible without sacrificing in style, then you should consider taking a test drive today down here at Willis Volvo Cars.