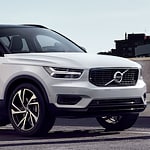 With luxury vehicles, we often take for granted that they're going to look and feel good. However, that's why we have the manufacturers at Volvo, who seem to be constantly changing the game to subvert our expectations. The XC40 is an excellent example of this - it's a subcompact luxury SUV from Volvo, and it boasts an exterior to match its insides.
The XC40 comes with a variety of features to highlight its outside design and look, but they do more to subtly accentuate the futuristic design than just bashing it over your head. Aerodynamic roof rails are integrated with aluminum to give a chrome finish and modern look to the XC40's roof, while the door handles are all equipped with electronic lights to make their locations obvious in the evening.
Features like these are subtle, but do more to enhance the overall luxury experience with the XC40. Come test drive the XC40 here at Willis Volvo Cars to see what we mean.