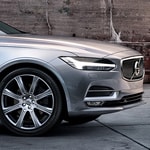 You may know about the Volvo V90's luxury status. Today, we want to share this popular wagon's performance features with you. Those features certainly impress us at Willis Volvo Cars.
Performance begins with a Volvo's engine, and the V90 comes in your choice of two, branded T5 and T6. The first supplies 250 horsepower, and the latter adds turbo, which boosts the output to 295 horsepower. In addition to increased force, the T6 setup provides your V90 with all-wheel drive, so you'll enjoy engaging with a broad spectrum of road conditions.
No matter which engine you choose, every V90 features drive modes. An elegant selector lets you pick Comfort, Dynamic or Eco. While Comfort supplies a cushy ride, Dynamic gives you a sporty experience that produces quicker responses from the V90's engine, transmission, steering wheel and brakes. Of course, Eco helps the car's powertrain and climate-control features work together to conserve fuel.